Is Kaohsiung the new hot spot for remote workers and digital nomads? Well, it definitely has loads of potential. We stayed in this awesome city for 1.5 months and we loved it. We were surprised how well equipped it is for the remote working lifestyle.
In general, the level of English is not so good, and sometimes it does get hard, as some restaurants don't have an English menu for example. But we were also often surprised by people who spoke English pretty well!
Below you can find our tips for remote workers who are planning on going to Kaohsiung.
Things to do
There are quite a few things to do and see in Kaohsiung, and you can also have a look at my post about Top Things to do in Kaohsiung.
And beyond the city itself, there are even more things to so and see. For example, you can easily hop on the High-speed train and visit cities such as Tainan, Taichung and Taipei.
You can also hop on a bus or taxi and drive to Kenting, which is a national park with amazing beaches and nature. Read our blog post about Kenting here.
Then there is the stunning nature in Taiwan, particularly in the eastern part of the island. There are a lot of beautiful waterfalls to see, such as the Liangshan Waterfall
There is also the beautiful Fo Guang Shan Monastery, which is a really nice place to spend your afternoon!
Things to eat
Kaohsiung, like all of Taiwan, has a lot of great food, and it would be impossible to list all of the great places where we ate, because there are literally dozens of great restaurants around every corner. And then there are of course the amazing foodcourts in every mall. Here is just a short list of our culinary highlights during our stay:
Breakfast/Brunch
善變的包子, Taiwanese breakfast, $, This traditional breakfast place has the best dumplings we ever tried!
Magic Spoon, Western Brunch, $$, Great brunch place run by a really nice Canadian gentleman! Try the pancakes and the ice cream!
NOW & THEN by nybc, Brunch, $$$, Fancy Brunch place at the Art Pier. The Eggs Benedict are delish!
Coffee
Oh! Cafe, Coffee bar, $, Super friendly guy running this little coffee shop. They got an award for best coffee roast!
Lunch
Din Tai Fung, Dim Sum, $$, Michelin starred dim sum restaurant, try the chocolate Xiao Long Bao, they are to die for!
富錦順小籠湯包, Dumplings, $, This is a chain restaurant and they only serve Xiao Long Bao dumplings! It's really good and cheap
黑人蒸寶, Taiwanese, $, A lovely couple runs this place, and the food is definitely very local and good!
Dinner
Arthouse cafe & Legends Bar, Western food and cocktail bar, $$$, Their legends burger is pretty amazing, and also try their signature cocktails!
Belfort Bistro, Italian, $$$, Definitely the best Pizza in town, and perhaps the best we had in all of Asia!
廣寒樓韓食館 고추가루팍팍, Korean, $$, Authentic Korean restaurant run by a Korean guy. They have a delicious Bibimbap!
Yoshiro Creative Sushi, Japanese, $$, Really good sushi for decent prices
Don Burrito Mexican Cuisine, Mexican, $$, Ran by a Mexican chap, this is the place to go to for your Mexican food fix
Dessert
福泉布丁豆花, Taiwanese dessert, $, Try this typical Taiwanese shaved ice dessert with condensed milk and various toppings. Mouthwatering!
Night Markets
The Ruifeng Night market is the best one we've visited. Not only do they have loads of yummy street food, they also have fun games to play, like shooting baloons and stuff.
Coworking and cafes
Even though there are some coworking spaces in Kaohsiung, we decided to go to cafes instead, as we had unlimited 4G internet. Surprisingly, there are a lot of cozy cafes in Kaohsiung that serve great coffee. Find our list of best cafes to work from in Kaohsiung here.
Accommodation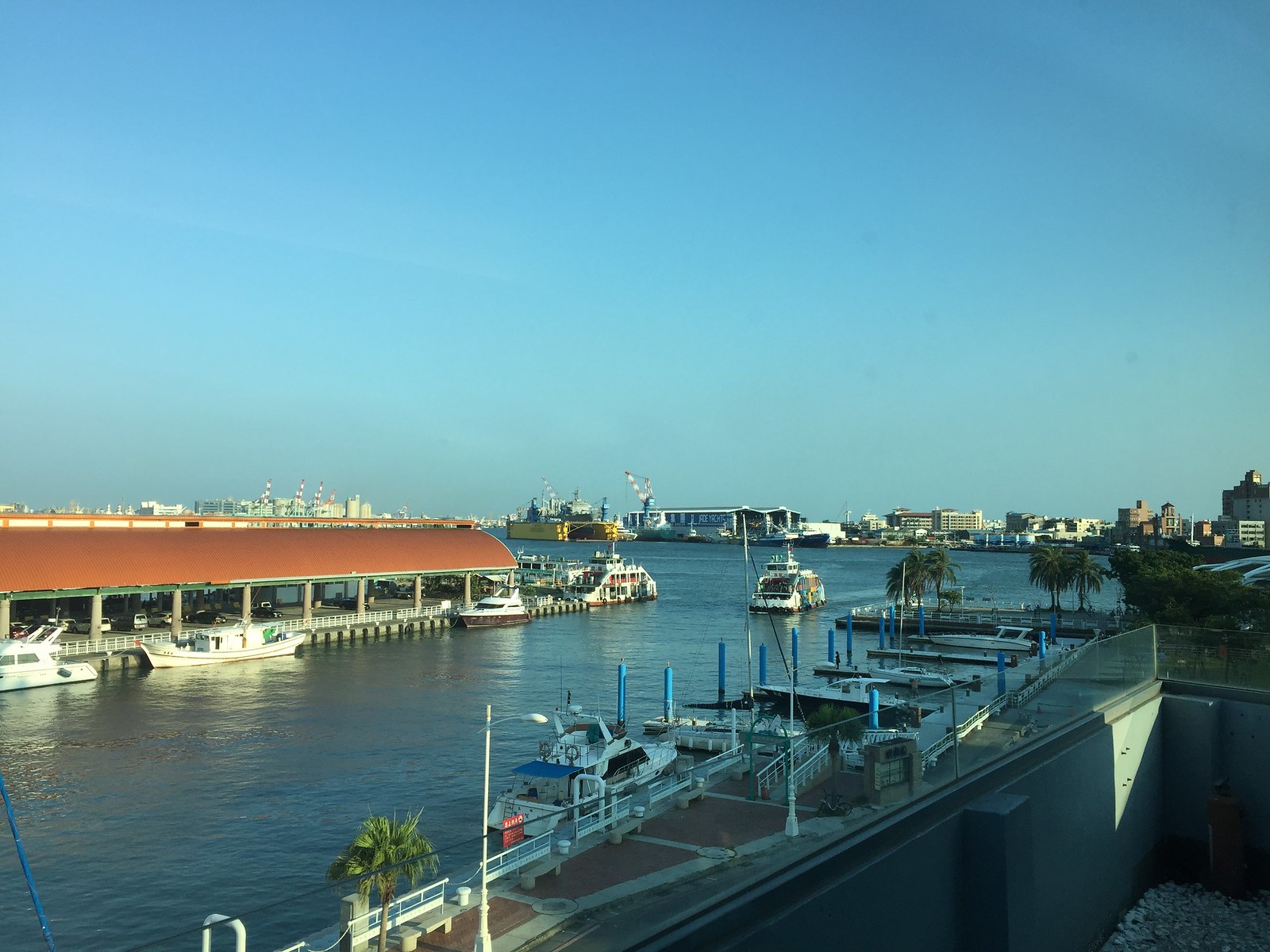 Like in many other destinations, it's rather difficult to find reasonably priced short-term rental accommodation in Kaohsiung. If you want to stay for six months or more than you can get amazing modern flats with swimming pools and gyms for around €400 a month. But for anything shorter than that it's quite difficult to find something.
We were lucky to find a nice Airbnb for a decent price at a gorgeous location. It's this place right here. The hosts Simon and Soni are super duper nice! We really recommend it 🙂
PROMOTION: Get €25 off your first Airbnb stay by signing up via this link!
We have also stayed at this Seasons B&B near the Love River. The accommodation is pretty decent, although there is no kitchen, and the location is quite good too. It's around €15 per night, but they usually rent the rooms for a longer term.
Simcard and Internet
When you arrive at the airport, the best thing to do is to get a 30-day sim card with unlimited 4G. This costs 1,000 NTD (around €28). This is really, really handy because it means you can literally work from anywhere, and not worry about any Internet connection, as it's unlimited 4G. It's actually pretty rare to find this anywhere else in the world.
We've also heard from someone that lives in Kaohsiung, that you can also get a similar sim card in the convenience stores, such as 7-eleven, but for 600 NTD, which is obviously a much better price. Wish we knew!
But even if you don't get a sim card with unlimited 4G, the average internet we've seen in cafe's and accommodations is actually pretty high, and most cafe's offer complimentary internet as well. So don't worry, Taiwan has high-speed internet covered!
Prices
In general, Kaohsiung is a pretty cheap city to live in. Of course, it's not as cheap as in Chiang Mai or other places in South East Asia, but it definitely comes very close. You have already seen the accommodation prices in the previous section, which are actually considerably cheaper than prices in Taipei for instance.
Food can be quite cheap if you go to local Taiwanese restaurants and stalls. But the prices are higher than South East Asia. On average, a meal will cost you between 100 – 200 NTD (€2.80 – €5.60). And if you want western food, then expect to pay much higher. Coffee is also quite expensive; we generally paid around 80 – 130 NTD (€2.20 – €3.65) for a cappuccino.
Digital Nomad Community
Unfortunately, there is not much of a digital nomad community in Kaohsiung, which is basically the only negative thing about this place. There are a lot of expats living there though, and most of them have been living in Taiwan for quite a while. Since many of these people are entrepreneurs and have some kind of business up and running in Kaohsiung, they are keen to build a sort of community. So, it might be true that in a few years, there will be more of a remote working community in this city.