Our last destination this year in Southeast Asia was Penang, an island in the southern part of Malaysia. Penang is well known for the city Georgetown, the UNESCO Heritage site, as well as being the country's foodie capital.
For Digital Nomads, it's quite a perfect place, as there are loads of amazing cafes, everyone speaks English, and it's relatively cheap. There are many things to do as well.
Here's my guide to Penang for Digital Nomads!
Things To Do
There's a lot to do in Penang, and it definitely has a lot to offer: Cultural sightseeing, chilling on the beach, shopping, hunting for street art in Georgetown or just eating your belly full.
You can take the funicular up to Penang Hill and take in the gorgeous view of Penang, then visit the Kek Lok Si Temple and marvel at the gigantic Buddha statue.
Go cafe hopping in Georgetown, then hunt for hidden street art and walk around the beautiful colonial buildings. Have a look at all the different temples within the city or if it's too hot for you, simply visit one of the countless museums in Georgetown.
For a full account of things to do in Penang, also read my blog post about Top Things To Do In Penang.
Things To Eat
Penang is a foodie's paradise, and it's impossible to list all the best places to eat because there are so many, and I'm pretty sure that it's absolutely impossible to try them all in a lifetime. Nevertheless, below I listed some of our favorite places to eat in Penang. Food in Penang is abundant, cheap and most of the time, so delicious!
Breakfast/Brunch
For the best brunch places in town, read my blog post about Best Brunch Places in Penang.
Lunch/Dinner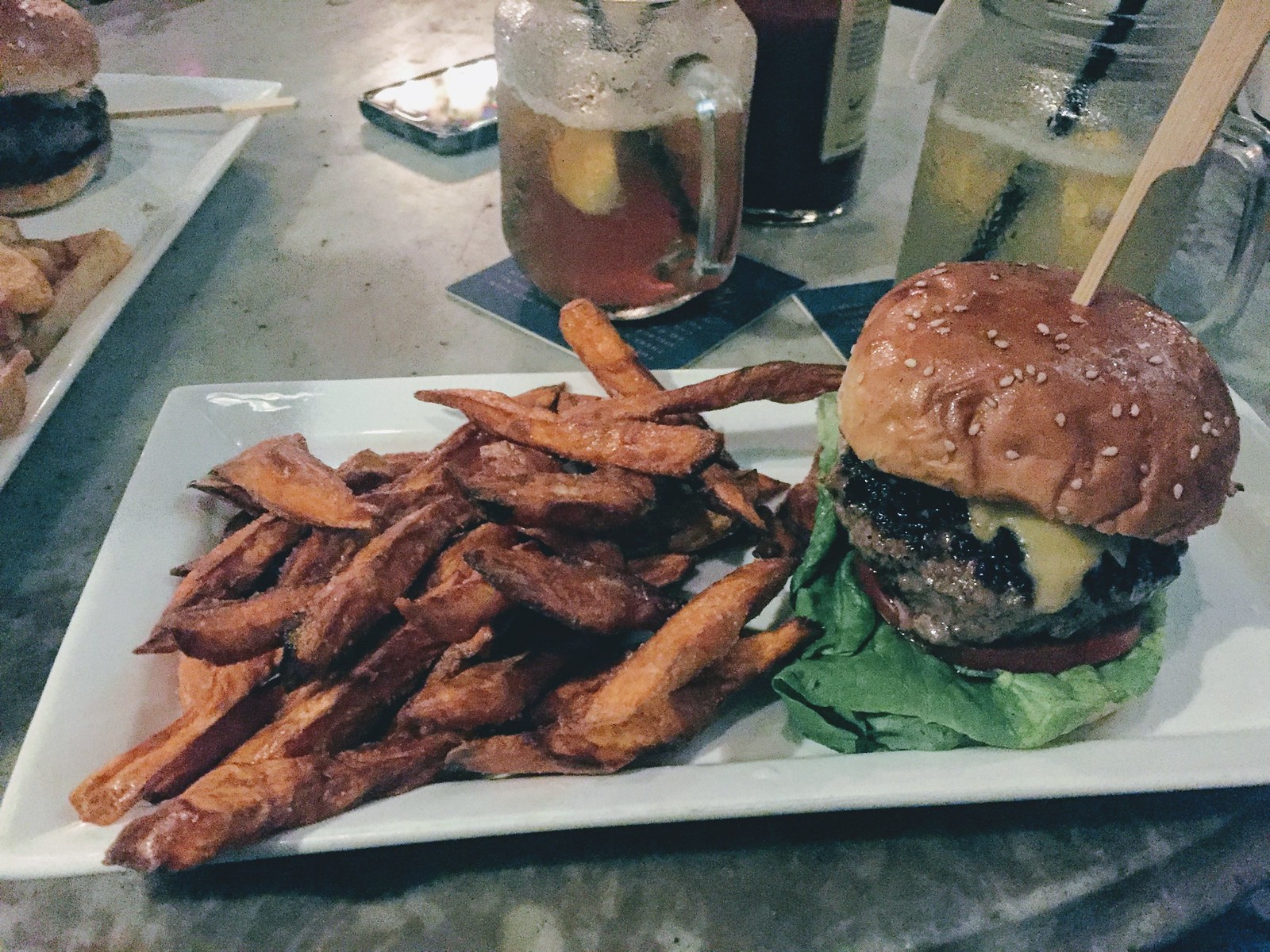 Viva La Pasta, Italian, $, Very decent pasta, and for very decent prices! We went here a couple of times because we liked it so much!
Kapitan Restaurant, Indian, $, Nice Indian restaurant, that's also quite famous
Junk Cafe, Burgers, $$, Really good burgers with delicious sweet potato fries!
Falafel stall in front of The Original Reggae Club, Falafel, $, They serve an amazing Falafel wrap!
Brown Poodle Cafe, Vegetarian, $$, Great veggie burgers and good coffee as well
Wholey Wonder Vegan Cafe, Vegan, $$, Never been here but heard that have great Vegan food 
Hawkers/Food centers
We found that these were the best food centers and hawkers we visited in Penang:
Coffee & Cake
Coffee on the table, Coffee & brunch place, $$, They make 3D Latte art, it's pretty cool to see!
China House, Cake & coffee, $$, They have so many delicious cakes, you will get fat just by looking at them
Bricklin Cafe Bar, Coffee, $$, Amazing coffee!
Coworking & Cafes
As we love working from cafes, we didn't visit the famous @CAT coworking space, which we heard is quite an amazing co-working space. Going to a coworking space may be the best option when in Penang for work because the internet around the island is pretty bad. @CAT has a very fast a stable internet connection.
We did find some cafes that had decent internet, and you can find the full list here, including internet speeds at each cafe: Best Cafes To Work From In Penang
Accommodation
Monthly accommodation can be quite expensive when you stay in Penang for just a couple of months. If you stay six months or longer, you can find really cheap and luxurious apartments, but you will have to rent it and sign a rental contract.
We went for Airbnb, but compared to the other accommodations we stayed at in Southeast Asia, Penang was quite expensive. Monthly apartment rentals on Airbnb cost around €600 – €1000. We were able to get an apartment for around €500, but it was really basic and probably the worst accommodation we stayed at during our time in Asia. But as there was really fast wifi, it was bearable.
Our Airbnb was located in the Jelutong area, which is quite a local area and from there, it takes you around 10 to 20 minutes to get to Georgetown, depending on the traffic. Of course, staying in the center of Georgetown would be preferable, but accommodation prices are definitely much higher. I heard that Gurney is also a nice area, with slightly more luxurious apartments.
Sign up on Airbnb now & get €25 off your first Airbnb stay by signing up via this link!
Sim card and Internet
There are quite a few phone providers where you can get a sim card for a month for a decent price. We eventually opted for 'U mobile', which had quite a good package with 4G, for around €20 for one month. You can easily but the sim card either in the phone provider store or at a convenience store.
Overall, Internet speed is very slow, and you should always check if a cafe or an apartment has a good internet connection and speed.
Transportation
We rented a scooter while in Penang because otherwise, it's pretty hard to get around, as the public transportation system isn't very good. However, if you'd rather be safe (because traffic is absolutely crazy), then there is Grab and Uber everywhere, which is super cheap as well.
Renting a scooter will cost you around €100 – €150 per month, and gasoline is very cheap. Just make sure that you get an automatic scooter because most of the locals drive a manual one.
Digital Nomad Community
Unfortunately, there is not much of a digital nomad community in Penang, which kind of surprised me because I heard that there are actually many digital nomads going to Penang. Perhaps we didn't hang out in the right 'scene' or it's because we didn't go to the co-working space, but we didn't really meet a lot of digital nomad people. However, a friend of mine did say that when she was in Penang, she met quite some cool folks, so perhaps we just went at a wrong time.
---
Despite the generally low internet speed, I think Penang is a lovely place and it was definitely one of my favorite destinations this year! I think it has a lot to offer, certainly for nomads who are planning to stay longer than six months. I loved the mix of cultures, the mouth-watering food and the beautiful city with the hipster street art, as well as all the awesome cafes. I'll definitely be back!